Mission statement
History
Founded in 1996, Avion Cargo brings together students who are passionate about aviation, engineering, aerodynamics and the unique challenges posed by aircraft design. We have been competing in the regular class of SAE's Aero Design competition since our founding year and in the micro class since 2011. With deep-rooted values of teamwork, collaboration and learning above all, we pride ourselves on not only being competitive, but creating a legacy of alumni who are knowledgeable problem solvers and excellent collaborators. We create an environment geared towards extracurricular learning and enhancing the university experience. Our greatest pride is being part of a team that is a tight-knit unit and a family away from home. The experiences created here at Avion Cargo - from the design process to competition - are the toolboxes used throughout the rest of our careers as engineers and as students of the world.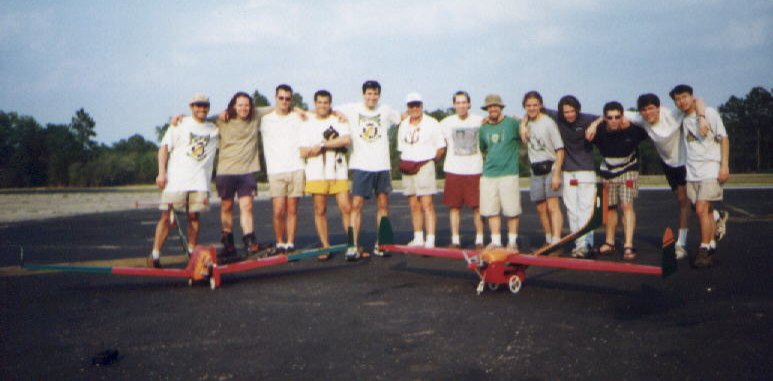 The 1999 Avion Cargo team.
Execs
Antony Belzile
Director Design
As director of design, I coordinate the team that will design and CAD the airplane. Our objective is to collect data from the other departments and use them to decide on the various components of the airplane. The integration work allows us to bring to life all the ideas that the team has in the form of a 3-dimensional drawing. I'm in my third year with Avion Cargo and it's an adventure filled with memories where we learn as much about aeronautics as we do about ourselves.
SEE MORE
Danick Lamoureux
Director Stress
I'm responsible for ensuring that all the components of the airplanes made by Avion Cargo will be able to resist the efforts they will endure while flying and landing. I analyse and determine different materialistic constraints imposed on the airplanes to ensure they will function properly. A second important responsibility of the department is to plan and execute the resistance tests on the various pieces and materials used by the team. I'm in my second year of aerospace engineering at Polytechnique Montréal and it is also my second year with Avion Cargo. This student association pushes us to surpass our limits of what we think we're capable of and to always learn more about an amazing subject: aeronautics.
SEE MORE
Emily Cohen
Director Communications
I manage all of the external communication of the association, from collaborating with other student associations within the Polytechnique community to updating our wonderful sponsors of our progress. I'm a second year student in aerospace engineering and this is my second year with Avion Cargo. My favourite aspect of our association is the amazing attitude that everyone has; I've never had so much fun learning.
SEE MORE
François Dionne
Director of Aerodynamics, Propulsion and Performance
In the aerodynamics and performances group, the ultimate goal is to ensure a stable flight and a maximum score at competition. Starting with the airfoil, then the optimisation of the payload and the stability analyses, our department provides all the necessary dimensions so that the department of design can do their job. I'm in my third year with Avion Cargo and every year is a new challenge. Join us to have a super great year in our company!
SEE MORE
Laurent Emond-Brunet
General Director
My role is first and foremost to assure that the team can function smoothly towards our common goals. I have tasks that are both technical and administrative and I am constantly adapting to the needs of my team. I'm in my third year of aerospace engineering at Poly and even after three years, I never cease to be in awe of the complexity of a project like Avion Cargos', especially when the teamwork is properly structured and we can accomplish more.
SEE MORE
Marie-Ève Lamer
Director Finances
My primary responsibility is managing the team's portfolio. Firstly, I must ensure that we have the necessary budget for the project, that the expenses for the year do not surpass a certain amount and I must verify the transactions. The second important role is to look out for sponsorships. Our project would not be possible without our wonderful sponsors supporting us, which is why searching for financing is so vital. This year is my 3rd with Avion Cargo and the team is my second family. Everyone is ready to work hard and I love the amazing collaboration and creativity of our members that bring us to building our airplanes.
SEE MORE
Phillippe Rioux
Micro Class Director
So you registered yourself in an engineering program but you want to go above and beyond the books and theoretical subjects presented in classes? Here's a little secret: getting involved in technical student associations is one of the most rewarding experiences for a curious and motivated student. That's it! My role in Avion Cargo is to integrate all the students who are interested to be a part of the team, primarily first year students. In short, the SAE competition is divided into three categories and the Polytechnique Montréal team participates in both the regular and the micro categories. We believe that the micro class presents a great project to undertake and allows for the development of skill sets and team bonding in a short amount of time. I personally really appreciated my experience and I'm here to make sure that you can say the same!
SEE MORE
ZhenPeng Liu
Director Manufacturing
It takes more than just passion for airplanes to fly. Behind every engineering marvel, there was a tedious process of testing, calibrating, and manufacturing. My job is to transform ideas from paper into physical objects. In the early stages of the designing process, my team and I work with other departments to implement new manufacturing techniques while keeping the aircraft easily manufacturable. At the end of the project, I have the task of managing the supply chain and coordinating the assembly process. I am a third year aerospace student. I love what we are doing and it's a privilege to be working with those amazing people.
SEE MORE
Sponsors
Avion Cargo Polytechnique would never be able to accomplish our projects without the help of our wonderful sponsors. All of our successes and victories are thanks to their generosity. We are immensely grateful to have them as part of our team.