Mission statement
History
Founded in 1996, Avion Cargo brings together students who are passionate about aviation, engineering, aerodynamics and the unique challenges posed by aircraft design. We have been competing in the regular class of SAE's Aero Design competition since our founding year and in the micro class since 2011. With deep-rooted values of teamwork, collaboration and learning above all, we pride ourselves on not only being competitive, but creating a legacy of alumni who are knowledgeable problem solvers and excellent collaborators. We create an environment geared towards extracurricular learning and enhancing the university experience. Our greatest pride is being part of a team that is a tight-knit unit and a family away from home. The experiences created here at Avion Cargo - from the design process to competition - are the toolboxes used throughout the rest of our careers as engineers and as students of the world.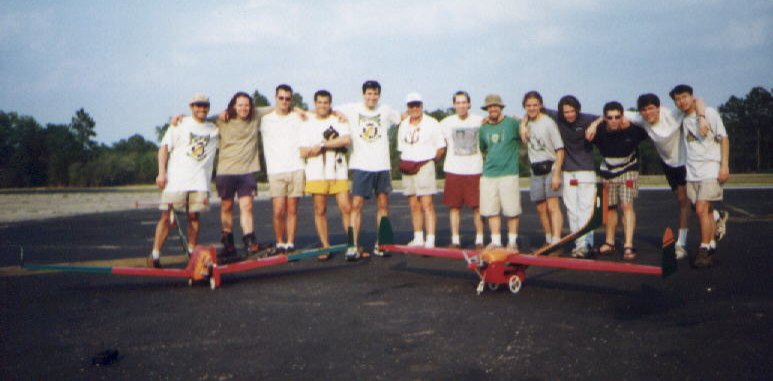 The 1999 Avion Cargo team.
Execs
Danick Lamoureux
Numerical Methods Expert
I am responsible for all simulations and numerical analyzes of Avion Cargo, both in fluid dynamics and in solid mechanics. I am in my third year at Avion Cargo and it is always so pleasant to be part of this stimulating team. My favorite aspect of Avion Cargo is the members learning along the way, we start the project not knowing what to expect and we get by when we run into problems.
SEE MORE
David Charpentier
Micro Member
I am in 1st year in aero engineering. What I like most about Avion Cargo is being able to carry out our own micro project. This allows us to gain more experience!
SEE MORE
David Tran
Finance Assistant
I take care of the financial aspect, the management of the portfolio and I make sure to find the necessary funds to carry out the project. This is my 1st year in the team and 3rd year at Poly in industrial engineering. I decided to be part of the Avion Cargo team because I am passionate about aviation!
SEE MORE
Emily Cohen
General Director
Hello Internet! As director general, I have the pleasure of working with all the departments of our student society to ensure that they have all the tools they need to reach their full potential. I prepare the schedules and the meeting agendas and after that, I prepare whatever the members need in order to do their magic: for example, organizing the flight tests or the design reviews with our sponsors. This is my third year at Polytechnique, in aerospace engineering, and my third year with Avion Cargo. The student society not only allowed me to grow as an individual and to gain more self-confidence, it also allowed me to watch my friends grow from shy freshmen into knowledgeable, creative and confident problem-solving students.
SEE MORE
Félix Trottier
Micro Member
This is my first year at Avion Cargo! I design the aircraft's propulsion and electronics systems. What I like most about Avion cargo is that its motivating and cordial team spirit!
SEE MORE
Hugo-Alexandre Latulippe
Perfomance Director
I am a third-year student at Polytechnique, and it will be my second year in Avion Cargo. This year, I am the director of the performance department, meaning I will be evaluating the performances of our aircraft to assure we are competitive. The thing I like the most about Avion-Cargo is seeing everyone evolve threw the year. Engineering projects make you learn a lot and develop yourself, seeing this in every one of the members and helping them reach their potential is fulfilling.
SEE MORE
Julien Lavergne Roberge
Design Member
I'm in the design department and I work more specifically on the tail and empennage. I have been in Avion Cargo for a few months. My favorite aspect of Avion Cargo is the amazing team we have!
SEE MORE
Kadem Aquachchar
Structure Manager
As a design manager, I help people create their CAD on SolidWorks without a hitch. I am starting my 2nd year at Polytechnique and at Avion cargo. What I like in this technical society is the teamwork and the cohesion that we have.
SEE MORE
Laurent Emond-Brunet
Structure and Aerodynamic Analysis Adviser
I give recommendations to the team on the technical aspect of the work based on my experience, and I help certain members to develop certain skills specific to aircraft design. This is my 4th year on the team. What I like the most is the feeling of attachment between all the members, regardless of experience, year and skills. We are all dependent on each other and it seriously gives a family atmosphere. In fact, I'm still coming to meetings and taking part in the project this year after 3 full years just to see the members and enjoy the warm atmosphere of the team.
SEE MORE
Matias Moana Guerrero
Structure Member
My role is to design the structure of the aircraft based on information from other departments and ideas from the whole team. This is my 2nd year on Avion Cargo and above all I love the freedom of each member to develop their ideas!
SEE MORE
Noor Mahieddine
Performance Manager
I take care of maximizing the performance of our aircraft according to the rules of the competition by first working on our Python optimization program, then by doing analyzes for our various aerodynamic choices. This is my second year on the team and my first as a member of Regular, before I was manager of the Micro team. What I like about Avion Cargo is, first of all, that we are a small team, so we can quickly become friends, which makes working on the project much more fun!
SEE MORE
Phillippe Rioux
Materials and Processes Specialist
This is the 3rd year that I have been part of Avion Cargo! What I like the most about this company is the friendly and relaxed atmosphere of the team.
SEE MORE
Pierre-Richard Junior Doffonsou
Structure Expert and Regular Designer
I am a 2nd year student in aerospace engineering, I am in charge of developing tools and methods for stress analysis in the parts of our aircraft. Avion Cargo is the perfect setting to give practical meaning to aero engineering courses, in an open and friendly setting.
SEE MORE
Raoul Suprenant
Design Lead
I take care of managing the design process of the aircraft structure and the management of the 3D model. I've been on the team for 6 months! What I love the most is seeing the final product take flight!
SEE MORE
Wassam Chalal
Structure Director
I take care of managing the structural department and I make sure that the construction of the aircraft is done according to the plans and the established deadlines. It's my 2nd year at Avion Cargo and what I like the most is putting into practice the knowledge I learned at school and participating in a real hands-on project with my friends!
SEE MORE
Sponsors
Avion Cargo Polytechnique would never be able to accomplish our projects without the help of our wonderful sponsors. All of our successes and victories are thanks to their generosity. We are immensely grateful to have them as part of our team.